This article should have at least one section for everyone that can be used to help grow your local scene, improve your game or provide a slightly different look at something you may already know a lot about. Based on feedback from my community the two most popular "formats" for draft are four packs of Crimson Moon's Fairy Tale (CMF) drafted together or four packs of The Moon Priestess Returns (MPR) drafted together.
I introduced FoW to my local shop about two months ago and the first Friday after they got a couple boxes in we had a four man draft. It was small, it was fun and it was the beginning of something amazing. Other people saw us playing and in time our numbers grew. Most Fridays and Saturdays there is a FoW draft running at my local shop, and last week we had 20 participants Saturday with another 7 or so Friday. We have not held a constructed tournament yet, our first big event is coming next week and we anticipate amazing turnout. I think this pattern can be followed if you're trying to get your own FoW scene started.
That first little draft had so many people just walk by and ask "what's this?" or comment "Oooo, that card looks amazing." Let the game work for you. Small drafts were an amazing way for us to get people playing the game. Scheduling nothing but draft events for the first two months was the perfect way to keep everyone on a fairly level playing field. No one needed a collection: just show up with $15 and have a great time playing for a few hours. It is amazing how many people have slowly drafted their way to constructed decks at our shop.
Sometimes we draft for picks other times we draft with a prize pool. Commonly at my local the smaller Friday night draft is played for picks, a practice where at the end of the draft all the foil cards are pooled together and the players take turns picking them in the order which they placed. 1st place finisher takes a card, then 2nd takes a card and so on. On Saturdays, where we have upwards of 20 drafters, we play with a prize pool. Basically everyone needs five packs to enter, instead of four, with the fifth pack being set aside to be used as part of a prize structure. For example 1st place wins eight packs, 2nd place wins four packs and so on.
Both drafting for picks and prizes have been very successful for us and in both cases there have been some awesome stories. When playing for picks on a Friday night a player finished his play set of Thunder for his constructed deck. Another time a player opened a god pack in his prize pool. My best recommendation is to try everything at least once and see what works for you and your group. I would caution playing for picks with too many people as it can be difficult to "track down" all the foils. I would never dream that any of the people I play with would be dishonest, but sometimes it's easy to forget that duel stone you left in your sideboard.
Now people are at your shop, drafting and having a great time. Let's get to the good stuff: how to win. As I said above, our local tends to prefer drafting 4x CMF or 4x MPR packs. I want to shine some light on these two formats then give you some top picks you may or may not have considered. We use the official draft ruler Clockwork Furnace at my shop, so when you start drafting in any format you should consider his ability and how powerful it is to set up your stone deck on the first call. He tends to make splashing that Thunder or Crime and Punishment much easier.
Crimson Moon's Fairy Tale
This set is painfully fast at times. Some things I have fallen victim to may include: Anyone lucky enough to open Puss in Boots; the musketeer spam knows no bounds. Lora searching for Lora, searching for Lora…..a long stream of 300/300 vampires can be exhausting. Rapunzel. Rapunzel is probably the best card in the set and I would say nearly 100% of games where a player starts the turn with her in play they win on the spot. Be very aware of how strong your opponent's draft deck may be.
CMF doesn't have a ton of 800/800 or larger resonators, and most of them are SR or R. This makes the 700/700 cards like Seven Dwarfs and Knight of Loyalty very strong. The absolute all star among 700/700 would be The Emperor with New Clothes. This guy should get picked over almost every other C and U card you can possibly open and he is better than half the R cards too. There are a ton of good playable Addition:Resonator cards in this set and he hoses them all, while also being one of the largest bodies you can get outside of SR.
Other cards to look out for:
The Moon Priestess Returns
This set is a painful grind to put it lightly. Many games end by a slow trickle of life points at the hand of Yellow Sign, or after a massive board stall when one players library simply runs out, or a single unanswerable Mind Reading Fox attacks for thirteen turns in a row and finally gets the killing blow. Your games will most likely be long and I think it is advisable to play more than twenty cards in a lot of cases.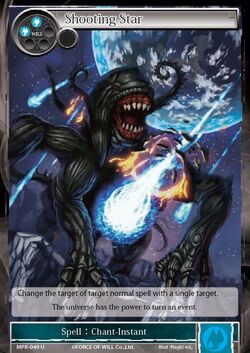 A top priority is your opponent's Addition:Resonator spells. There are a number of very powerful Addition:Resonators including Yellow Sign, Glyph of Unkill, Bind of Gravity, Ragonarok, the Divine Sword of Savior and others. In this set there is only one way to destroy an Addition:Resonator after it has resolved: Sinbad, the Windrider Merchant. Even if you're lucky enough to open the SR Sinbad, you still need to draft some of the card draw effects in the set to trigger him. Considering the frequency you are likely to see Addition:Resonator spells from your opponent and all the hoops you have to jump through to destroy them you should really prepare a backup plan. The best backup plan is to stop these powerful effects from ever coming into play. Using Exceed, the Ancient Magic is going to be a good option. The best option however is Shooting Star. I have been fortunate enough to steal a Ragnorak in one game and redirect a lethal Yellow Sign in another game. Shooting Star is absurdly powerful and in most packs I would pick it over any other card because of the specific role it plays in this format.
Other cards to look out for:
Thanks for reading. I hope drafting can become successful at your local shop and when it does these tips can help you improve your game.
~Ken